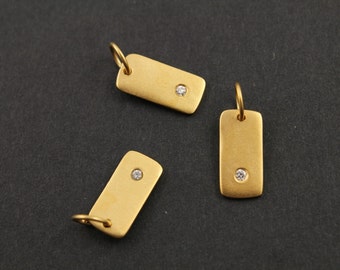 Whether you're pining for those sweltering summer months and are looking for something more than your skin to show off, or want to really impress a person you love truly, madly, deeply, there's hardly something as personal or meaningful as some dainty jewelry.
This year personalized necklaces made by mixing up metals and motifs are total en vogue. You've seen some of the exciting new looks gracing the runways of major fashion hubs like New York and Paris, so why not take the trends to heart for your next indulgent treat or as an amazing present for an upcoming birthday?
Of course, everyone seems to be getting in on the bandwagon and you'll find that the web is chock-full of online jewelry stores whose wares are almost impossible to tell apart. While being in style is a must, you wouldn't want to show up wearing the exact same pendant as your BFF. What you need is a subtle mix of contemporary styles and timeless themes spiced up by a dash of something truly extraordinary, which is why you'll definitely want to get to know the score on the fanciful golden world of Nano Jewelry.
A lot of the inspiration for their work comes from the bustling environment of Tel Aviv, the city Nano Jewelry calls home. You'd be hard-pressed to find a modern urban landscape that is as studded with ancient culture and tradition to draw on. At the same time, it's a sprawling metropolis where influences from around the world mingle, forming a unique atmosphere which seems familiar, but is decidedly exotic at the same time.
It's no wonder that creativity thrives in an environment like that. Add to it decades' worth of experience and an upbeat approach to creating necklaces that bring joy and border on art, and you've got a recipe for success.
What sets them apart from oh so many other jewelers is the ability to make masterful miniature inscriptions with pure 24k gold on a level like literally no one else. Imagine hammering home your affections through a pendant that says "I love you" in 120 seductive tongues, or looking like a million bucks while sporting an insanely detailed golden image of a "bill" with that exact amount on it.
There are loads more cute and fashionable designs to take in on their webpage, ranging from classy religious themes to unusual gifts for her perfect for a sunny day. The selection is huge and varied, so expect to stay longer than you'd intended.
That's not the only reason why Nano Jewelry is such a best gift shop–you get to pick out a beautiful necklace for yourself or a loved one, but then you can tweak it so that the resulting combination of gem colors and precious metals goes great with your girlfriend's favorite summer dress.There's even a free little magnifying glass with each to enjoy every inscription's subtle details to the fullest. Before you know it you'll come up with a great gift for him or her mark by the sophisticated stylings of golden imagery, and your own personal touch.